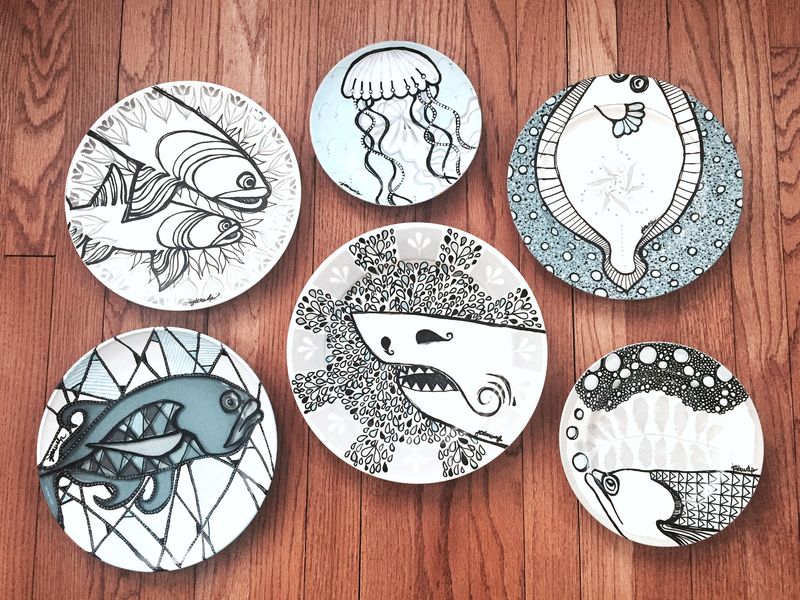 Fish and sea life are such fascinating creatures for an artist to draw. They provide a lot of imaginative opportunities with shape, size, pattern, etc. And well, fish just have funny faces, don't they? So I designed a set of sea life illustrations from a variety of cream, white, and gray plates I found. It won't be the last of my undersea exploration I am sure.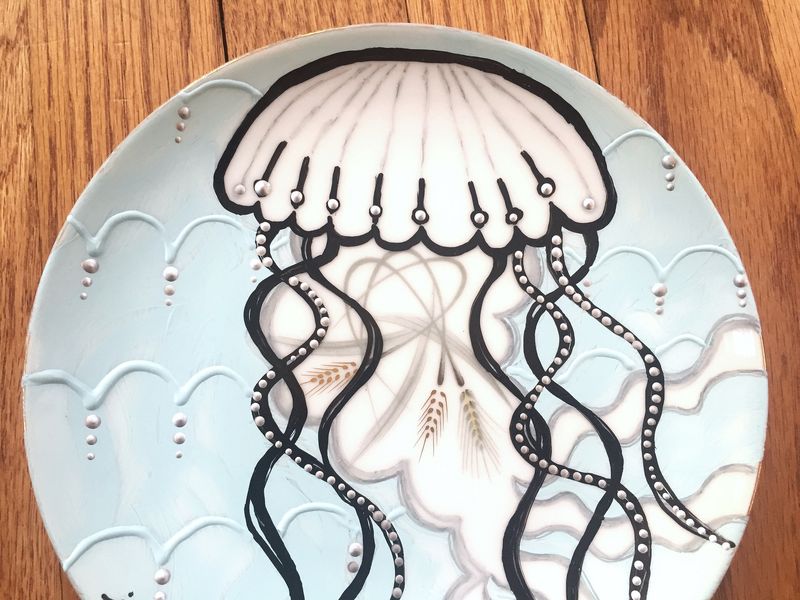 This small plate's original design of looping leaves and grain reminded me of a jellyfish. The round arches form the body and the floral details become entwined with the tendrils as they float and curve down.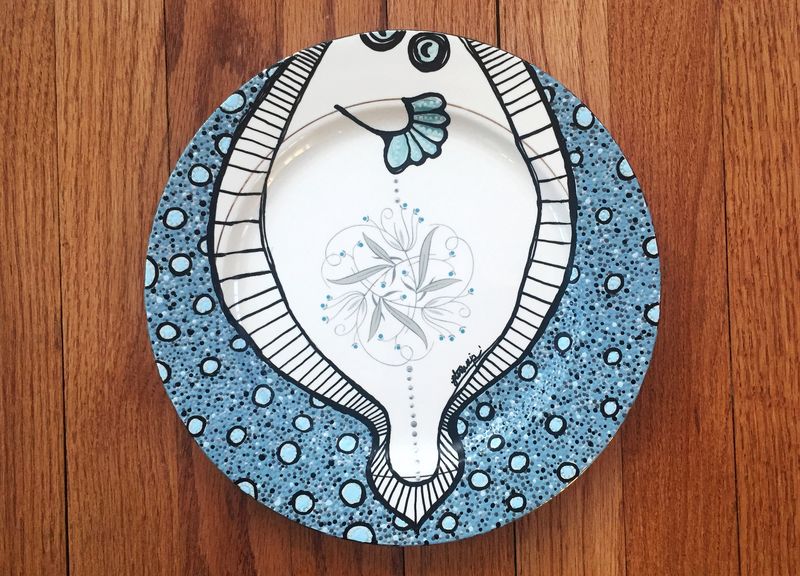 The flounder is a distinctive and whimsical fish. This flounder waits on the bottom of a speckled, sandy sea floor while his wacky eyes dart right off the plate!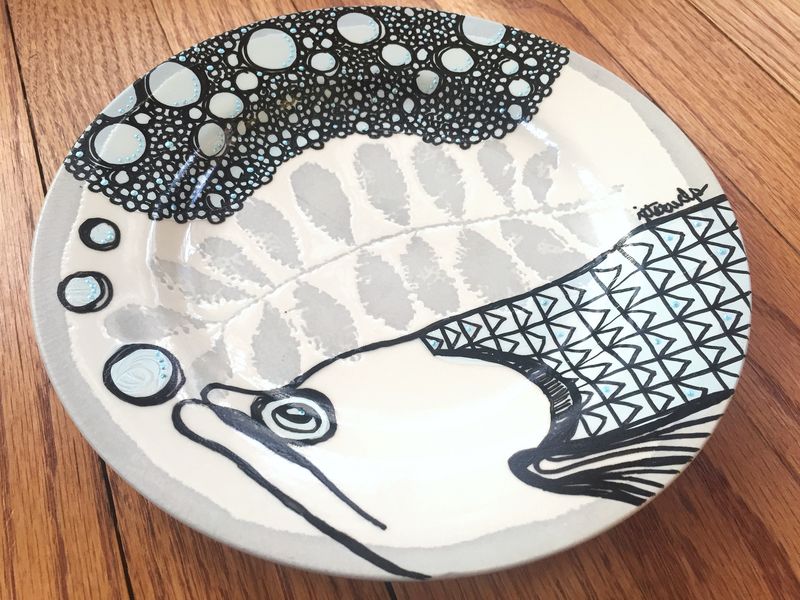 This plate's original gray leaf feature looks like seaweed to me. So I decided this fish needed a rest under seaweed and foamy bubbles.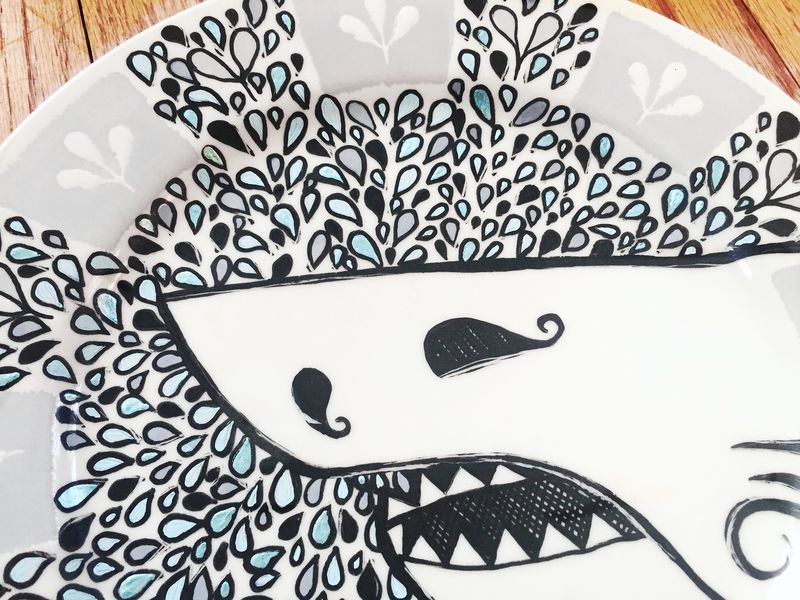 But fish can't rest for long because there is a shark swimming about. Maybe that's a school of small fish darting away? Or perhaps a big splash? No matter what — everything and everyone definitely wants to get away! This detail shows a technique I like to use. Because of the smooth surface of the plate, I can add texture and thinner lines by scratching the painted surface. The effect reminds me of block printing.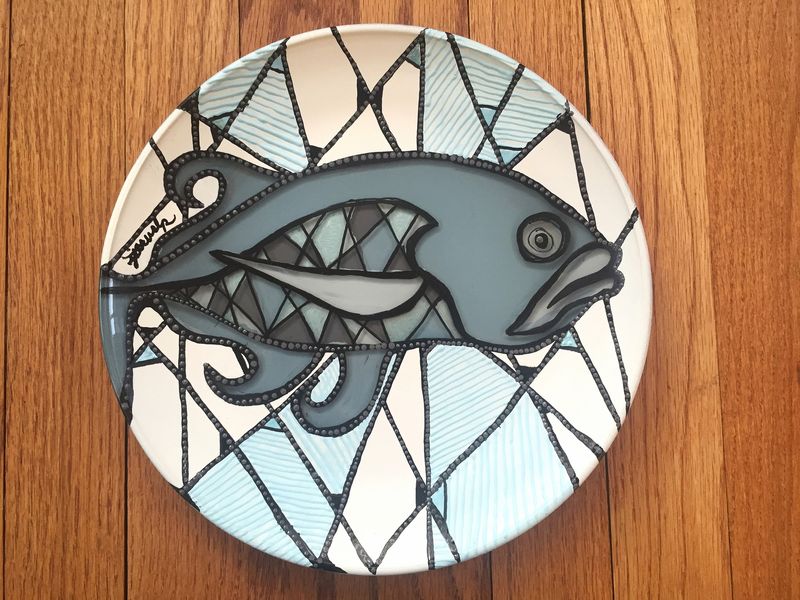 This was originally a plain glass plate. Glass is fun to paint because of the layering you can achieve. I first painted the color shapes of the fish on the back of the plate. On the front of the plate, I added the linear details and opaque background. I love the way this creates a dimension to the fish.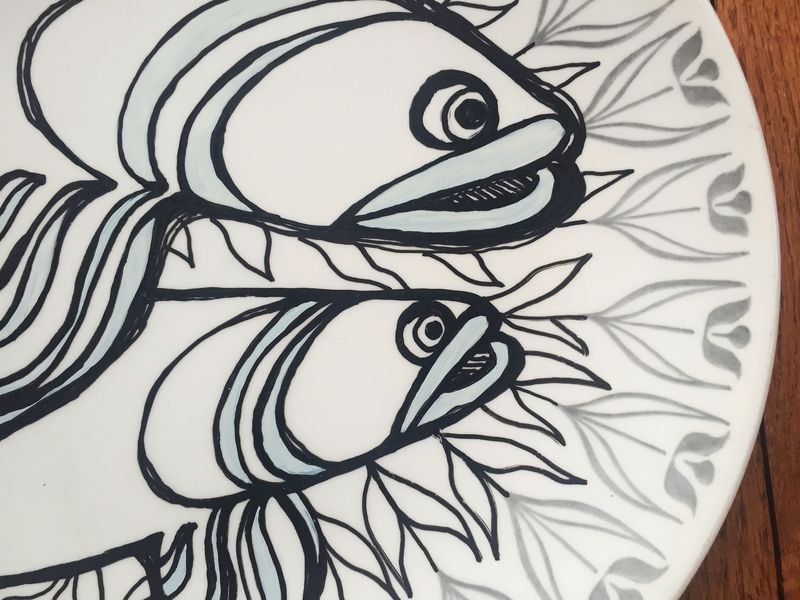 I'm not exactly sure what kind of fish these were that inspired my drawing. I loved their big lips and open mouths. The existing floral design on the plate made a great "seaweed" background for this pair of swimming fish.
These plates range in size of 7.5 to 11 inches. Prices are $25 to $40 [SOLD]. For more information on purchasing my original and one-of-a-kind art, please contact me referencing the plates on this post.
I can also create OOAK unique illustrations of your choice on a variety of thrift shop tableware. Note that all my pieces are meant to be works of art and are for decoration only.